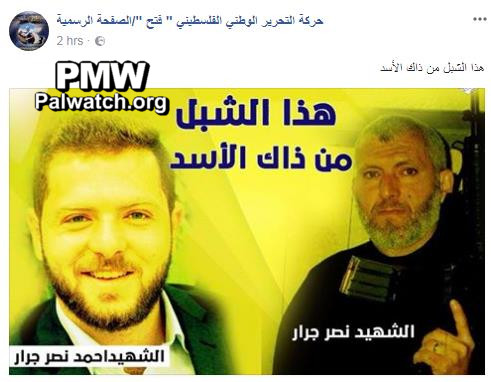 Image and text posted on the official Fatah Facebook page
The image shows a picture on the left of terrorist Ahmed Nasr Jarrar, who led the murder of 1. On the right Nasr Jarrar – the father of Ahmed Nasr Jarrar and a senior official in the Hamas military wing in the West Bank who was killed during the PA terror campaign (the second Intifada, 2000-2005) – is seen holding an assault rifle.
Posted text and text on top of image: "This young lion is of that lion"
Text on bottom of image:
"Martyr Nasr Jarrar
Martyr Ahmed Nasr Jarrar"
Click to view bulletin
Ahmed Nasr Jarrar – Palestinian terrorist who led the terror cell that murdered Rabbi Raziel Shevach in a drive-by shooting on Jan. 9, 2018, near Havat Gilad, in the Nablus area. Jarrar was shot and killed during an exchange of gunfire with Israeli soldiers while resisting arrest near Jenin on Feb. 6, 2018. Ahmed Nasr Jarrar is the son of Hamas terrorist Nasr Jarrar who planned two attacks in central Israel – a double suicide bombing in the Sheba Hospital and a truck bombing in a multi-story building – attacks that were thwarted when he and other members of his terror cell were apprehended in 2002.