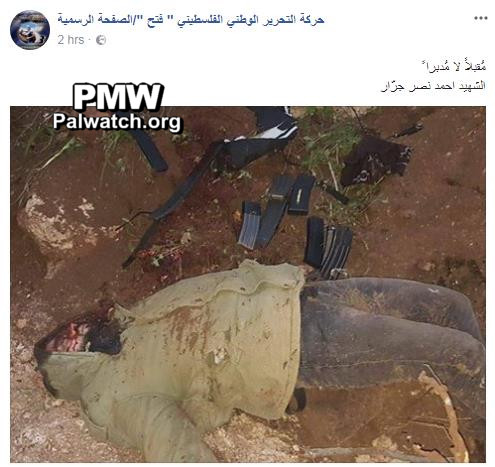 Image and text posted on the official Fatah Facebook page
The image shows the body of terrorist Ahmed Nasr Jarrar, who led the murder of 1. Jarrar's body is seen shortly after he was killed while resisting arrest by Israeli soldiers on Feb. 6, 2018.
Posted text:
"'He faced forward and did not turn his back'
Martyr (
Shahid
) Ahmed Nasr Jarrar"
Click to view bulletin
Ahmed Nasr Jarrar – Palestinian terrorist who led the terror cell that murdered Rabbi Raziel Shevach in a drive-by shooting on Jan. 9, 2018, near Havat Gilad, in the Nablus area. Jarrar was shot and killed during an exchange of gunfire with Israeli soldiers while resisting arrest near Jenin on Feb. 6, 2018.

Click here to read the full article on its original website.